City of Council Bluffs, Iowa
24th St. Bridge (I-29 & I-80)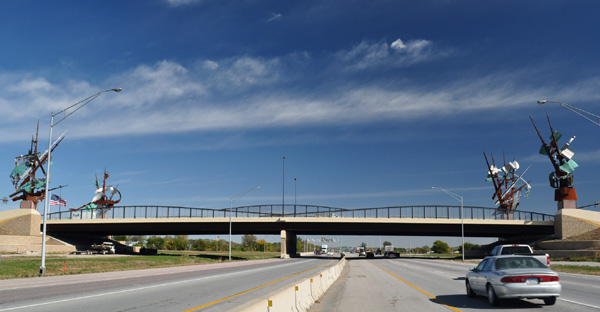 Project overview
Albert Paley's iconic gateway into Iowa and the City of Council Bluffs stands at 100 feet above Interstate 80/29. Located on the 24th Street Bridge spanning I-80/I-29, this site is a prioritized site within the City's Public Art Master Plan. Click here to read more about the city-wide Public Art Master Plan that Public Art & Practice, LLC completed in 2005.
While other single works of Paley's are larger in scale, Paley's Odyssey is comprehensively his largest composition, with each of the four individual sculptures ranging from 46 to 61 feet high and weighing in at 46,000 to 70,000 pounds. Public Art & Practice assisted with the selection process of the artist, submittal of maquettes, contract negotiations, and coordination of planning efforts for this project. Communication from the beginning between all parties allowed the Iowa Department of Transportation to properly engineer Paley's plinths (located at the four corners of the bridge) based on Paley's estimated weight, wind loads, and dimensions during initial 2009 bridge construction.
Paley's design for the site includes four works of art constructed of bronze (which has a green patina), Cor-Ten steel (which develops a rust color) and brushed stainless steel (which reflects sunlight). Each material was chosen to represent the dialogue between the land and air and sky and light, as well as minimize future maintenance expenses.
To view the sculpture site from a live webcam, click here. To watch the installation, open the webcam site and select August 4-14, 2010, at various times of the day.
Images were provided courtesy of Albert Paley Studios and John Lehning.
Artist background
Albert Paley
Albert Paley has been active as an artist for over 30 years. At his studio in Rochester, New York, he and his staff work in a variety of metalworking disciplines. Trained originally as a jeweler, one can still see his meticulous attention to detail in his massive public works. Commissioned by both public institutions and private corporations, Paley has completed more than 50 site-specific works. Notable examples of his work are the Portal Gates for the Renwick Gallery of the Smithsonian Institution in Washington DC, the Portal Gates for the New York State Senate Chambers in Albany, and a ceremonial archway in Forest Park for the Saint Louis Zoo. Works by Paley can also be found in the permanent collections of many major museums including the Metropolitan Museum of Art in New York, the Museum of Fine Arts in Boston, and others throughout the world.
Project team
Albert Paley - Artist
Iowa West Foundation - Client
Iowa Department of Transportation
Jensen BRV Engineering, P.C. - Engineering Firm
Public Art & Practice, LLC - Art Consultant