City of Council Bluffs, Iowa
Bayliss Park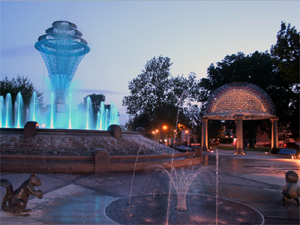 Project overview
Located in the heart of Council Bluffs, Iowa, Bayliss Park was redesigned from its 1800s original concept and rededicated on April 28, 2007.
Internationally recognized artist Brower Hatcher of Mid-Ocean Studio designed the park's new features, which include the breathtaking center elements for the fountain entitled Wellspring, its performance pavilion Oculus, an interactive children's water feature, and seating.
Bayliss Park was the Public Art Master Plan's first prioritized site and Brower Hatcher was also their Artist Selection Panel's first selected artist. This selection process was guided by Public Art & Practice, LLC.
Wellspring consists of a stainless steel base, powder-coated stainless steel rod structure, stainless steel water deflectors, and stainless steel and copper hardware. During the winter months, the powder-coated stainless steel rods of the Wellspring sculptural fountain stand elegantly, crystalline in the winter sun and illuminated at night with LED lights; it is a beacon in the snow. In summer, the fountain is activated by a geyser shooting water over the framework, cascading over the tiers of rings into the pool below. Additional water jets and lights complete the sequenced aquatic display.
Oculus's granite columns are topped by a multi-layered matrix built of a layered sequence of powder-coated stainless steel, which in the sun provides a prismatic rainbow of hues. At each vertex of this structure a mirrored stainless steel disk is inserted to reflect light. Oculus provides entertainment opportunities for the community such as large swing band concerts, and local ballet and theatre performances.
The children's interactive water area includes six cast black squirrels (in bronze) standing nearly 30" tall. Integral to the design is a water feature that turns on when activated by children.
To view footage from an aerial camera pointed at Bayliss Park, visit iowawest.oxblue.com/bayliss.
Artist background
Brower Hatcher
Born in Atlanta, GA, Brower Hatcher attended Vanderbilt University School of Engineering in Nashville, TN and received his degree in Industrial Design from Pratt Institute in New York. He then studied sculpture at St. Martins School of Art in London, U.K. with Sir Anthony Caro and William Tucker. Hatcher has created more 30 public art projects throughout the U.S. He is a recipient of three National Endowment for the Arts Fellowships, a Guggenheim Fellowship and an honorary Ph.D. from the State University of New York. He works at the historic Steel Yard in Providence, RI, as the artistic director of his studio, Mid-Ocean Studio Inc.
Project team
Brower Hatcher – Artist
Iowa West Foundation - Client
RDG Planning & Design – Multidiscipline Firm that created Bayliss Park Master Plan
Public Art & Practice, LLC – Art Consultant