City of Council Bluffs, Iowa
Broadway Viaduct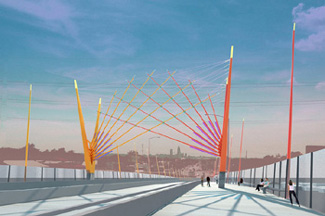 Project overview
The Broadway Viaduct is the primary East and West thoroughfare for the City of Council Bluffs, Iowa, and a gateway into their downtown area. As one of the prioritized sites within the City of Council Bluffs' Public Art Master Plan, a team of industry professionals was assembled to replace the existing Broadway Viaduct bridge structure. This team included engineering firm Schemmer and landscape architecture firm RDG Planning and Design. The team partnered with an artist selected by the Iowa West Selection Panel to commission a public work of art for the Viaduct. Click here to read more about the city-wide Public Art Master Plan that Public Art & Practice completed in 2005.
Public Art & Practice guided the Artist Selection Panel through the artist selection process that ultimately led to Portland-based artist Ed Carpenter being selected for this site. After being selected, Carpenter and the project team (listed below) participated in a several-day-long charrette and were able to prioritize a location in the center of the Viaduct for Carpenter to design a 76' vertical sculptural element. As Carpenter's sculptural component took shape, all other bridge elements were designed to ensure a seamless experience for viewers throughout the entire bridge. Those elements included pier shapes and textures, the above-deck pedestrian plaza, 126 vertical poles with LED light tube extensions, and a number of other site-specific design applications.
Artist background
Ed Carpenter
Ed Carpenter is an artist specializing in large-scale public installations ranging from architectural sculpture to infrastructure design. Since 1973 he has completed scores of projects for public, corporate, and ecclesiastical clients. Recent public art projects include commissions for Fred Hutchinson Cancer Research Center in Seattle, WA; Portland State University's Maseeh College of Engineering, Redmond City Hall in Redmond, Washington, and many more.
Project team
Ed Carpenter – Artist
Iowa West Foundation - Client
Iowa Department of Transportation
City of Council Bluffs
Schemmer – Engineering Firm
RDG Planning & Design – Landscape Architect
Public Art & Practice, LLC – Art Consultant