City of Council Bluffs, Iowa
Mid-America Center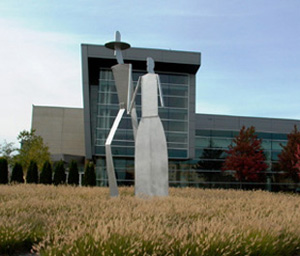 Project overview
Mid-America Center is a 110-acre Entertainment District and is home to Council Bluffs' Arena and Convention Center, the Horse Shoe Casino (Iowa's largest land-based casino), a Bass Pro Shop, hotels, restaurants, and additional retail outlets. This development is also the second prioritized public art location within the City of Council Bluffs' Public Art Master Plan. To read more about this city-wide Public Art Master Plan, click here.
Partnering with HOK, Public Art & Practice, LLC recommended public art sites as well as appropriate scale and budget for each site. Through this process the team identified five public art sites. Through Public Art & Practice's selection process and planning efforts, the Artist Selection Panel commissioned three internationally renowned artists to create works of art for Mid-America Center – William King, Jonathan Borofsky, and Jun Kaneko.
Project team
Jonathan Borofsky – Artist
Jun Kaneko – Artist
William King – Artist
Iowa West Foundation - Client
HOK – Landscape Architect
Public Art & Practice, LLC – Art Consultant